lazyme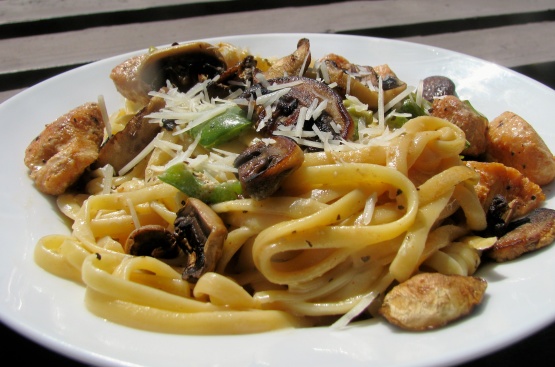 "Cajun cooking is a combination of French and Southern cuisines. It is robust, country style cookery - and so is this dish! Laissez le bon temp roulez and bon appetit!"
Bring a large pot of lightly salted water to a boil. Add pasta and cook for 8 to 10 minutes or until al dente; drain.
Place the chicken and the Cajun seasoning in a plastic bag. Shake to coat. In a large skillet over medium heat, sauté the chicken in butter or margarine until almost tender (5 to 7 minutes).
Add the red bell pepper, green bell pepper, mushrooms and green onion. Sauté and stir for 2 to 3 minutes. Reduce heat.
Add the cream, basil, lemon pepper, salt, garlic powder and ground black pepper. Heat through. Add the cooked linguine, toss and heat through.
Sprinkle with grated Parmesan cheese and serve.