Cajun Chicken Caesar Wrap (For 1)
gailanng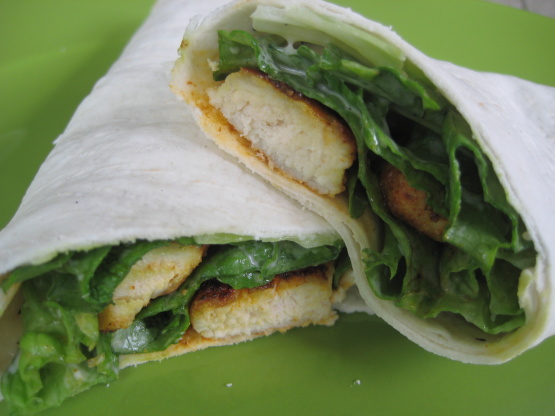 Very simple and so tasty. I eat this just about every day for lunch. I use McCormick Bayou Cajun Seasoning and Cardini's Original Caesar Dressing. NOTE: I cook one whole chicken breast and save the other half of the chicken for the next day.

Yesterday DH and I visited his 90 yo Cajun uncle just incase...well, you know what I mean. I had called in advance saying that I was bringing lunch. Uncle carefully opened his wrap and said, "These are called Cajun what?" He pondered that no one ever made one of these in any house he had ever eaten. I explained this was "new" Cajun cooking...and btw, this is a man that has never eaten in a restaurant in his entire life. Uncle responded, "New Cajun cookin'. I never heard dat." I said not to worry because most people had never heard the name Clovis Anatole (which is in fact his given name). We both agreed.
Combined chicken strips, olive oil and Cajun seasoning in a bowl until the chicken is well coated.
Cook chicken in grill pan over high heat so it gets slightly blackened/ browned and grill marks. About 3 minutes each side.
Toss lettuce with Caesar salad dressing.
Microwave flour tortilla about 30 seconds until soft.
Add the chicken to the tortilla, top with salad and wrap it up.