Cajun Beer-Basted Red Drum on the Grill
Pete K.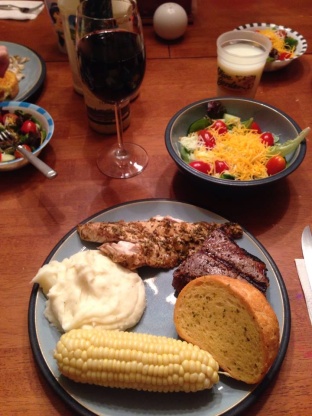 The drum are coming in as fall approaches & this is an easy delicious baste. Though I prefer basting up our own fall catches the best, I would use it on any firm-fleshed fish with filets suitable for grilling. There are several Cajun seasoning mixes posted on Zaar - I plan to try these once I use up my current fav - Phil Robertson's . Your choice of lager beer--we use our old favorite - Rolling Rock! Serve with roasted potatoes & green salad-- taters can roast at 425°F & be done when fish is ready if thrown in oven before prepping fish.
Send DH out to set a medium fire in grill.
Rinse filets & pat dry. Sprinkle cut sides with garlic & pepper, pressing them gently onto filets.
In small saucepan, melt the butter over medium heat & add 1 Tablespoon Worcestershire sauce and Cajun seasoning, garlic, onion, green pepper, parsley.
Stir & sauté until onion translucent & sauce darkened & slightly thickened. Do not burn garlic - it will become bitter & spoil baste.
Add bottle of beer, 2nd tablespoon of Worcestershire sauce & simmer 15 minutes on medium-high heat.
Lay filets onto oiled grill grates or place on oiled aluminum foil over grill grates ( I prefer this so I can sop the filets without flareups & ash). Cook 20 minutes (or 1 cold beer) over low-medium heat, raising lid only to baste generously. Done when thickest area of fillet flakes easily. Enjoy!