Caitlin's Peanut Butter Cookies
Kiwiwife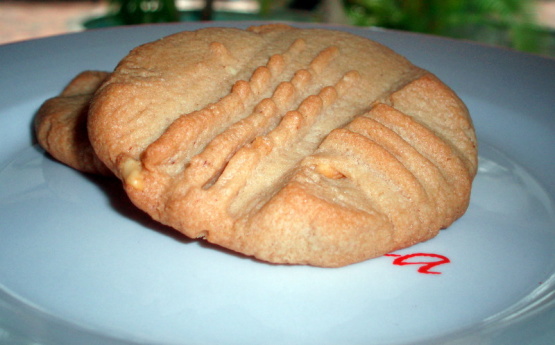 My mom used to make these for me, and me for my daughter--now when she comes home I get her to make a batch for me! Simple, satisfying, and they smell great when they're cooking!

I made these cookies to send to some special college kids in a care package. They were perfect! They came and held together beautifully and tasted absolutly divine!! They are super easy but don't taste it! I got 26 nice size cookies. Thanks for posting Michele!!!
Preheat oven to 375 degrees.
Beat butter in large mixing bowl till soft.
Add sugars gradually to butter, blending till creamy.
Beat in egg, peanut butter, salt, and baking soda, till well combined.
Add flour to the batter, mixing well, then vanilla.
If using, add the chocolate chunks at this point. Batter will be stiff.
Roll dough into small balls and place on greased cookie sheet.
With the tines of a fork, press 'tic-tac-toe' design into cookies. These don't spread too much, so you'll be flattening them to about 1/2-inch high.
If you used chocolate chunks, the pattern won't be perfect--that's fine!
Bake about 15 minutes, till golden brown.
Remove carefully while still warm, and let cool on wire rack.