A wonderful dessert coffee...
1⁄2 cup hot strong coffee
2 tablespoons chocolate syrup
2 tablespoons orange liqueur (Grand Marnier)
whipped cream
Directions
In a mug, stir chocolate syrup, orange liqueur, and coffee.
Top with whipped cream and dust lightly with cinnamon.
Reviews
Most Helpful
I made this as a treat for the hubby...he loved it...=)

Perfect coffee to go with brunch. It was flavorful and delicious. I did add a splash of cream to it, just because I like my coffee creamy.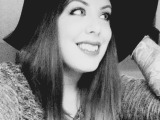 Loved, loved, loved this coffee. Like Boomie, I didn't measure the amount of Grand Marnia that I used. It was heaven, rich, dark, strong coffee, subtle orange & cinnamon flavoring, all nestled in whipped cream. I'm in the pleasure zone...thanks so much for sharing Loof, I will be making this again and again. Update: Loof, I can't tell you how many times I have enjoyed this delicious coffee, since I first tried it in 2009. It always tastes just as great as the first time.