Rita1652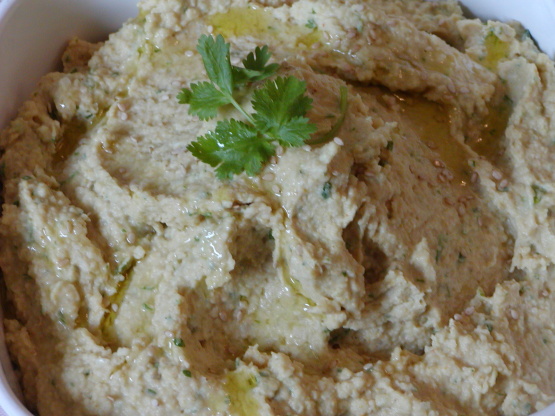 From the Chimes Cafe Cookbook. Posted as a request, I have not tried this. From the cookbook: "There is something special about this particular hummus. I believe the secret is to blend the hummus so that it is still chunky. At the Cafe we use our large Hobart mixer, but you can accomplish the same thing with a food processor. We omit the added olive oil that many recipes insist on and include toasted sesame seeds for crunch. Yield: 3 1/2 cups"
In a food processor, purée the onion, garlic, lemon juice, vinegar, tamari, and curry powder, if desired, until the mixture is smooth.
Add half of the chickpeas and half of the tahini and blend until smooth.
Add the remaining chickpeas and tahini and blend coarsely, so that the mixture is chunky.
Toast the sesame seeds in a heavy skillet over medium heat until they are golden.
Shake the pan or stir constantly to avoid burning.
Add the toasted sesame seeds and parsley to the hummus and stir to blend.
Adjust seasonings to taste.
Serve as a sandwich filling.
This is also delicious served as a dip with toasted pita wedges or fresh vegetables.