twissis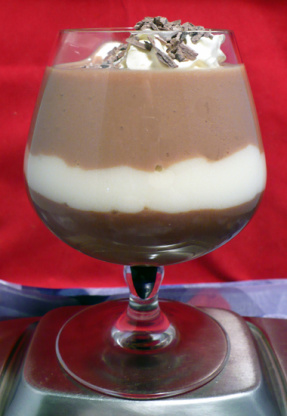 posted by Lura Lee from ineedcoffee.com

Made for the Mar Photo Challenge (using coffee) + my MIL & DH who both have a *huge sweet tooth* ! This is so fun to make, pretty & yummy too. The coffee flavor is subtle & has more impact as the color variant than it does on the flavor. I made as written & split it to get 3 equal (& generous) servings in brandy snifters. For presentation & easy layering, it works best to start w/the choc layer on the bottom, the vanilla layer next & finish w/the Au Lait layer as the Au Lait layer is a bit thinner & spreads easily over the surface. This is easy, make-ahead & would be a great kid-pleaser for a spec family occasion, when your kids have friends to visit or when adults just feel like a sweet treat. Thx for sharing this recipe w/us.
Follow the directions on the package for preparing the vanilla pudding: add 2 cups of cold milk and pudding mix in a bowl and whisk for two minutes.
In a separate bowl, prepare the chocolate pudding. The directions call for 2 cups of milk. Instead, put in 1 1/2 cups of milk and 1/2 cup of chilled coffee and pudding mix in a bowl and whisk for two minutes.
Transfer about 4 tablespoons of the vanilla and 4 tablespoons of the chocolate pudding to a third bowl. Add 2 more tablespoons of coffee to this batch. Whisk this batch. It should appear a few shades lighter than the chocolate pudding's color. Drink the remainder of the coffee.
Layer in cups or parfait glasses. Refrigerate for five minutes. Garnish with whipped cream before serving.