Prep 20 mins
Cook 25 mins

Not too sweet bars have the famailiar flavor of coffee laced with cream. Dress them up with a sprinkle of chocolate chips or a dusting of powdered sugar.
Directions
Preheat oven to 325. Lightly grease a 13 X 9 pan. Beat the eggs in a mixing bowl until light-colored and thick. Add teh sugar, beating until glossy and thick. Add vanilla and butter, beating to combine. Stir in the flour and salt. Scrape down beater and sides of bowl to incorporate.
Set aside 1 1/2 cups batter. Stir together the coffee crystals and cream and add to the remaining batter. Spread the coffee batter into prepared pan. Spoon the reserved batter over and then run a knife through the two batter to marble them. Sprinkle with nuts.
Bake 20-25 minutes or until the center is set. Cool before cutting.
Most Helpful
My DH was the taste tester for this-He said this was AWESOME!
We thought these tasted good--the only problem was they were VERY dense and hard to swallow. HAVE A DRINK HANDY! I will make these again, but add a leavening agent or more liquid/butter and reduce the coffee crystals (I used Nescafe and the coffee layer was slightly bitter). Thanks for posting!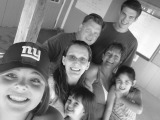 It was really hard to stop at one serving of these (I failed to stop until I had eaten about four). The bars are not very sweet, and they have a nice, strong coffee taste to them. We really enjoyed this recipe! I left out the optional nuts, otherwise followed the recipe closely. I will definitely be making this again. Thanks!