Café Mocha Mint or Café Mandarin Mocha
PaulaG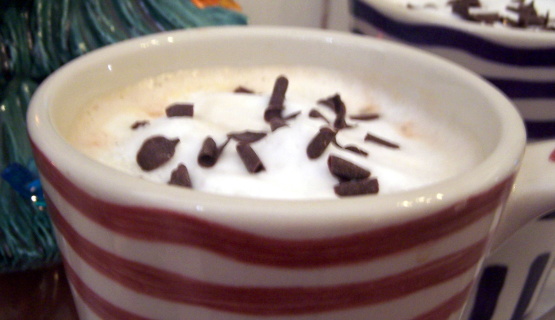 Café au lait with the flavors of mocha & mint or mocha and orange added. The proportions of coffee and milk can be varied to suit your tastes (like 3/4 cup coffee and 1/4 cup milk for stronger coffee or 1/2 and 1/2 each for weaker coffee).
2⁄3 cup hot coffee

2

tablespoons chocolate syrup
1⁄8 teaspoon mint extract or 1⁄8 teaspoon orange extract
1⁄3 cup milk, cold
cocoa powder (to garnish) or chocolate shavings (to garnish)
Pour the coffee into a cup; stir in the chocolate syrup and the extract.
Steam milk until hot and frothy, then add to the coffee, leaving a layer of foam on top.
Sprinkle chocolate on top, if desired.