Caesar Salad With Onion Bagel Croutons
Nimz1466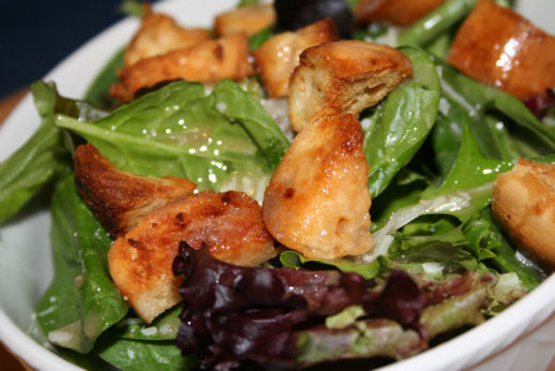 I found this recipe in Bon Appetit several years ago. The biggest challenge is resisting the temptation to eat all of the croutons before you make the salad! They are very crunchy and very good.

Delicious salad, and like other reviewers, we especially love those croutons! I used a vegan worcestershire sauce, dairy free margarine, and omitted the parmesan cheese to keep it vegan. I omitted the hot sauce and reduced the red wine vinegar for personal preference. The result was a big hit, and makes a great choice for entertaining. Thanks!
For Croutons:.
Preheat oven to 325.
Combine melted butter with olive oil and minced garlic in a large bowl.
Slice bagels into 1/4 inch thick rounds. Place in bowl with butter mixture and toss to coat.
Spread coated bagel pieces on cookie sheet.
Bake until crisp and browned, about 30 minutes.
Cool.
For salad and dressing:.
Whisk first 8 ingredients in a bowl.
Combine lettuce, parmesan and croutons in a large bowl.
Add dressing, toss well and serve.