Caesar Salad Sandwiches With Chicken
Kim127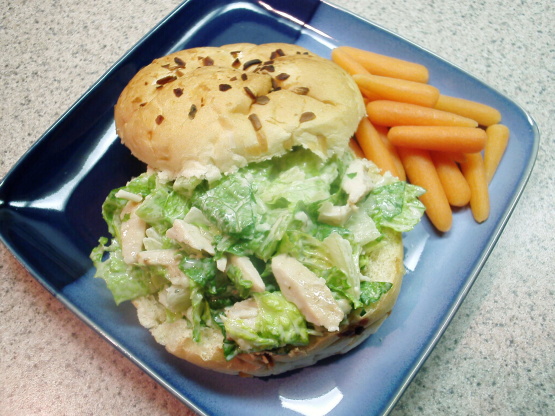 It's sandwich season. Who wants to cook much of anything when it's 100 degrees? I made these tonight and they went down nice and easy. I used Lemon & Herb seasoned chicken breasts from Costco and baked them when I first got up and the house was still cool enough. The chilled, sliced, chicken tasted just fine! Oh yes! I bake the breasts whole and from frozen and slice them when making the sandwiches. Thats about 40 minutes cooking time done my way.

Top Review by Kim127
Yummy sandwich. To make things even easier I purchased the Perdue shortcuts Roasted Chicken pieces. Zapped them in the microwave for 30 seconds and mixed in with the romaine. I also subbed asiago cheese for the parmesan (thats what I had). Using the precooked chicken, I had these sandwiches on the table in less than 10 minutes. Now, you can't beat that!
Set the oven on broil.
Cut each roll in half and scoop out the dough to form a pocket in one side of the bread.
Combine the lettuce, dressing and cheese in a bowl.
Place the chicken strips on a broiler pan and brush with the olive oil.
Broil the strips of chicken for a total of about 7 minutes, turning once.
Add the chicken to the salad and pile the mixture into the bread pocket.
Top with the other half of bread and serve.