Caesar Salad Dressing Mix
Pamela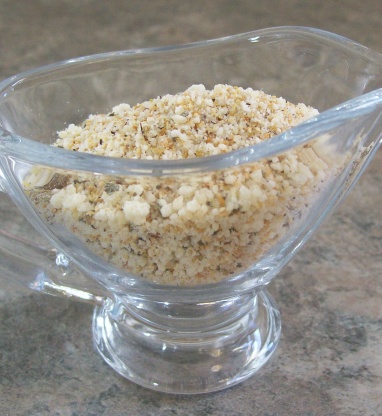 Christmas season is here, and I have been searching for mix recipes to jar as presents. Recipe from Mary Mae's Jars and Mixes.

Great find! I used a little less lemon juice to start with (1/8 c?) and liked it. I wanted to write a review because my hubby, who eats no salad if it doesn't have ceasar dressing on it, commented after supper that, "That was good dressing." Thanks for sharing!
Combine all ingredients in a small bowl; stir until well blended.
Put mixture in a foil packet or 1-pint glass jar and label as Caesar Salad Dressing Mix.
Store in a cool dry place and use within 3 to 4 months.
Makes One 3/4 cup serving (3 Tablespoons) Instructions for Jar: CAESAR SALAD DRESSING: Combine 1 pkg of mix, 1/2 cup vegetable oil, and 1/4 cup lemon juice in a glass jar.
Shake until well blended.
Chill before serving.