Easy and not so guilt-ridden recipe.
Directions
Mix all ingredients in a blender or with a hand blender.
Reviews
Most Helpful
I was a little nervous about the coddled egg, having never put that in salad dressing before. Well, my fears were unwarranted. This was delicious and the consistency of the dressing was perfect. I made this in the blender and it couldn't have gone together more smoothly. Thanks for sharing. Made for Please Review My Recipe Tag Game.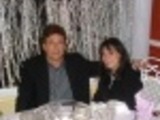 Ok, part of me says this isn't a "real" Caesar dressing because it lacks the anchovies (even though I know Worcestershire sauce contains anchovies). But truthfully, this is a great recipe. I love that it only uses ingredients that are pantry staples, and that it only makes a small amount. I used this as a base for a salad dressing I had at a local restaurant, which added a small amount of fresh ginger. This was perfect for that and the addition of the ginger allowed me to serve an awesome tropical Caesar. Thanks, Deantini, for posting another great recipe!

This is a very tangy Caesar, loved all the lemon and garlic! I didn't bother to coddle the egg as I make raw egg Caeser all the time. This is was a little more streamlined then my usual recipe, which was great for a busy evening. Thanks for sharing Deantini! Made for ZWT 7 by a fellow Food.commando