Caesar Salad Chiffonade With Shrimp or Crab
Alskann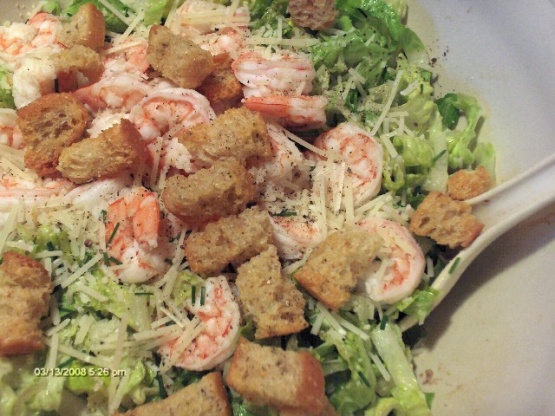 This is an unusual twist to the classic Caesar Salad, it makes a beautiful presentation and easy to make! COOKS NOTES: Please adjust quantities to suit your tastes. Please note: this is an adopted recipe and I hope to make it soonest. If you make it before I do, I would appreciate feedback, Thanks ! ZWT REGION: United States of America.

Refreshing and easy to make. I did not mold this salad as I was only making it for dh & myself. I used medium shrimp and added about a tablespoon of anchovy paste to the dressing. Those are the only changes I made. I did not mold the salad but rather tossed it all together in a large salad bowl. Couldn't have been simpler, and it makes a colorful presentation. It is a nice change from your usual caesar salad. We will make this one again.
Whisk together all ingredients. Put Romaine chiffonade in a large bowl, add the dressing and toss lightly, add salt and pepper to taste and toss again.
Place a ring on the plate, such as a clean tuna can with both ends removed.
Fill the ring approximately half full with romaine, add shrimp or crab and chives lightly packing it down in the ring with a spoon.
Add more Romaine, filling the ring to the top, packing it down again lightly.
Carefully remove the ring, top with Parmesan and croutons and serve.