This is a fabulous, low fat alternative to traditional caesar salad. I was skeptical at first, but being a huge Caesar Salad freak on weight watchers, I had to try. This is now the only way I will make it. Anchovy paste IS a key ingredient - I have left it out and was dissappointed with the results...so, even if you scoff at anchovies...YOU HAVE TO USE IT HERE OR IT WON'T BE THE SAME!!! For anyone on the ww point system, this recipe is 3 pts per serving (2 cups)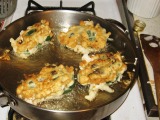 This one is a bit of a paradox for me. My wife said "I want Caesar Salad tonite." and so I made it from this recipe. She didn't exactly rave about it, but I thought it was very good, which is often difficult to achieve with "healthy" ingredients. So, I'm the rater, not her, and so I hereby award Kaysma 5 stars for a very good and innovative recipe. There!
preheat oven to 300F combine everything but the bread and lettuce in a small bowl and stir until completely mixed.
place bread cubes on a baking sheet and bake for 15 min at 300F (or until toasted) combine toasted bread cubes and lettuce in a large bowl.
add dressing and toss to coat.