This is my version of the Caesar salad I was taught to make tableside at The Barrister Restaurant in Pomona CA close to 40 years ago. This is a little more tart than some Caesars and has a little more garlic and anchovy than some, but that is what gives it delightful flavor.
Directions
**Note: If salmonella is a problem in your area, use pasteurized eggs, available at some supermarkets, or use equivalent amount of egg substitute.
During close to 40 years of eating this and other raw egg products, however, I have NEVER suffered through a bout of salmonella.
Thoroughly mash anchovies and garlic with a little salt.
Mix in next 6 ingredients.
Slowly whisk in olive oil and 1 cup cheese.
Toss with lettuce and croutons.
Add additional cheese and black pepper if desired and toss again.
Serve immediately.
This salad can be made tableside, or the dressing ingredients can be mixed by hand in a bowl or in a blender or food processor and just tossed with the salad ingredients and more cheese at the last minute.
If desired, cut back a little on the anchovy, but do not omit entirely; it is needed to provide a little pungency.
The sald is totally insipid without it!
Reviews
Most Helpful
Really easy and delicious ceasar recipe. Only changes, -- just personal preference, I used 1 T Dijon and 1 T Vinegar, about 1/3 the parm.. ( but it was freshly grated parmagiano reggiano, so i think still had all the flavor it needed.) THanks so much for sharing...this will be my go-to Ceasar dressing recipe!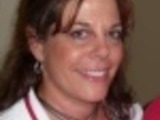 This recipe resembles one I have always used but was easier and just as good! My recipe called for one egg white and didn't include the dash of hot pepper sauce. I think I have a new favorite recipe, thanks.
this is a classic delious Ceasar Salad. Make it how the directions say and it will tast great. My girlfriend hates anchoives so I tell her that there are non in there and she can't tell but loves the dressing! Excellent!