diner524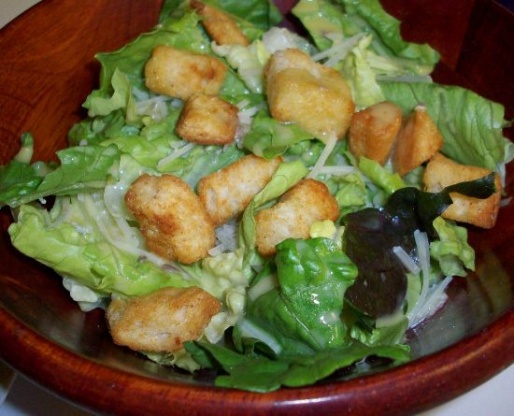 The real thing, from scratch. Scrumptious!
This is a nice salad dressing, but for me it tasted more like a lemon/egg viniagarette than a ceasar salad dressing. I have never made a home-made ceasar dressing, but have had it many times in the restaurants, and it just seemed to be missing something. Made for Spring PAC 2008.
Tear, wash, & dry lettuce.
Coddle the egg by placing in boiling water (still in shell) for one minute, remove, and set aside to cool.
In frying pan on low heat, add a dash of salt, 1 1/2 T of oil, & 1/2 of the garlic.
When warm, add croutons, & brown lightly.
In a bowl, whisk lemon juice, the rest of the garlic & a dash of worcestershire sauce. Slowly add the rest of the oil while whisking. Stir in anchovies. Crack egg, scooping out of shell & whisk into dressing.
Add romaine & toss.
Add parmesan cheese, pepper, & croutons & toss again.
After making this again, I agree with the first review - too lemony.
I've edited & cut the lemon in half.