This recipe is from the June 2004 issue of Gourmet magazine. Has a nice zing! This will serve about 4-6 people as a main course or over 8 as a side or starter.
Directions
Whisk together the lemon juice, mustard, anchovy paste, garlic and olive oil in a large bowl.
Add pasta, romaine, cheese and croutons.
Toss to combine.
Season with salt and pepper to taste.
Serve immediately.
Reviews
Most Helpful
Excellent! Going into my fast but good cookbook. I (sort of) halved the recipe, by using 6 ounces pasta, an 8 ounce bag of caesar salad mix and only about 1 tablespoon oil. Everything else I cut in half as written. Since we are vegetarians, I omitted the anchovy paste altogether and made this a complete meal by adding veggie chick'n strips. Thoroughly enjoyable and easy. Great midweek one-dish meal. Will make this again. Thank you!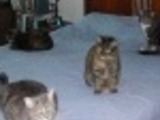 This has become my "go to" salad for potlucks or BBQ. I used mini bow tie pasta (1/2 the amount listed). Great main course with chicken added!
I took this to a Fourth of July cookout last night, and it was definitely a hit! I made it exactly as directed. However, I made the dressing the night before, to let the flavors marry; I adjusted the seasonings by adding more anchovy paste, a bit more dijon mustard, and as other reviewers suggested, worcestershire sauce and a touch of white wine vinegar to even out the flavors. I tossed the hot pasta with grated cheese, part of the dressing and lots of fresh ground pepper, reserving the remaining dressing. We transported the pasta in a bowl, with croutons, the chopped romaine, the rest of the reserved dressing, and both shaved and grated parmesan packed separately. I put everything together right before serving, to excellent reviews. I would definitely make this again. Thanks for an excellent recipe.