Caesar Grilled Chicken Sandwiches
loof751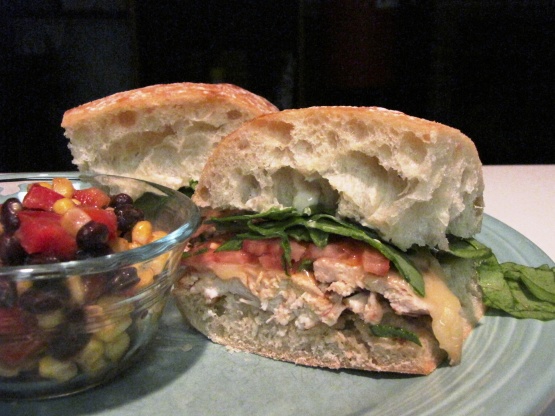 This is a variation of the standard Caesar salad. Chicken is grilled and served on ciabatta bread for a delicious unique sandwich.

What a great sandwich! I love Caesar salads and that flavor came through loud and clear in this dish. I made just as specified - so easy - and wouldn't change a thing. This sandwich was perfect on the ciabatta bread - really enjoyed this - thanks for sharing the recipe! Made for Fall PAC 2009
Place the chicken cutlets into an airtight storage container and cover with enough Caesar dressing to marinate, preferrably overnight.
After chicken has marinated grill chicken breasts until cooked through. They will cook quickly as they are thin.
Top chicken with cheese and allow cheese to melt slightly.
To assemble sandwiches: Cut the bread into 2-3 inch wide horizontal sections which are then cut and split in half to make the sandwiches.
Brush both sides of bread with Caesar dressing.
Top one side with a few spinach leaves and the sliced tomatoes.
Place grilled chicken breast topped with cheese on other half of bread.
Put the sandwich together and slice in half, enjoy!