Boomette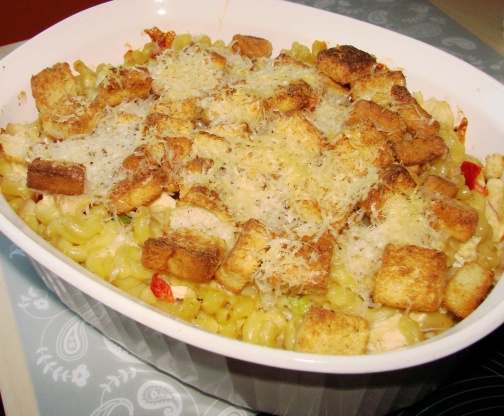 Pasta in a light Caesar sauce topped with crisp, browned croutons.

Yum! I used 1 C. of dressing, omitted the red pepper, used 2 C. mozzarella and garlic butter flavored croutons. DH won't normally eat caesar dressing, but gave this a try and even HE loved it! Will definitely make again! One thing I will try next time - adding the croutons halfway through the cook time. My croutons wanted to get too brown before the casserole was really hot. Thanks!!!
Heat oven to 350°F.
Cook pasta according to package directions.
Drain.
Meanwhile, combine all remaining ingredients except croutons and Parmesan cheese in large bowl.
Add cooked pasta; stir to combine.
Spoon pasta mixture into ungreased 2-quart round casserole.
Top with croutons and Parmesan cheese.
Bake for 20 to 25 minutes or until heated through and croutons are golden brown.