rpgaymer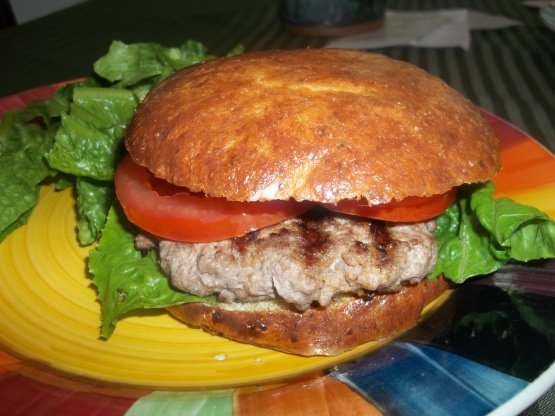 This makes a very moist, delicious burger. Don't leave out the anchovy paste, it really adds a lot of flavor.
I love anchovies and Caesar salads are really the only salads I like, so I had to try this burger. It was good! The anchovy flavor really comes through- very nice. I halved the recipe and made four smaller patties, which was more than enough for us. I topped the burgers with romaine lettuce, tomatoes, green onions, and some Caesar dressing, and served them alongside a small Caesar salad. YUM.
In a large bowl beat egg, add beef, half of the parmesan, lemon juice, anchovy paste, Worcestershire sauce and pepper.
Mix lightly by hand.
Shape into four thick hamburger patties.
Grease grill, heat to medium high.
Place burgers on grill and cook for 10 minutes.
Flip burgers once and heat for another 10 minutes or until no longer pink inside.
In a small bowl whisk oil with garlic.
Cut Kaiser rolls in half, brush garlic oil on each cut side, place on grill and toast until golden brown.
Place burgers on rolls, sprinkle with remaining parmesan and top with lettuce, tomato and onion slices.