Caesar and Lemon Chicken Bruschetta
AshK5246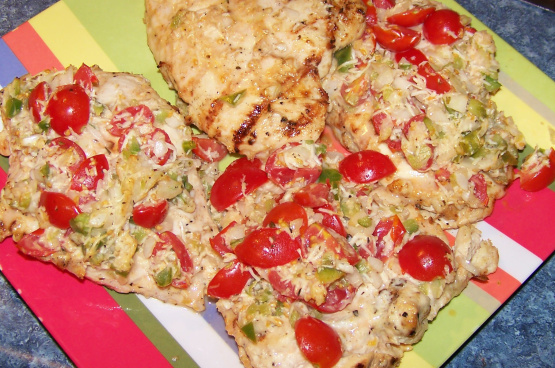 I got this idea from Kraft magazine, but I put my own twist on it. I hope you like it. Note: Prep time includes 30 mins marinade time.

This was fantastic! The marinate is great And I already have ideas for using this recipe to expand on some other recipes! Thank you so much for a wonderful dinner, thanks to this recipe!
Mix dressing, lemon juice, and seasoning.
Place chicken in a ziplock bag, add 1/2 Cup of marinade. Marinate at least 30 minutes.
Put remaining ingredients in a small bowl and add the additional marinade.
Heat grill to med high. Place chicken on grill and grill for about 6 minutes. Remove from grill to a platter.
Place a piece of foil on grill and place chicken breasts on foil ungrilled side down. Wash platter with soap and water.
Spoon tomato mixture evenly over the chicken breasts. Grill on low about 4 mins or till chicken is done. Remove to platter and let sit about 5 mins before serving.
Serve with grilled vegetables and salad or angel hair pasta.