Caesar and Bacon Potato Salad
sprsrvr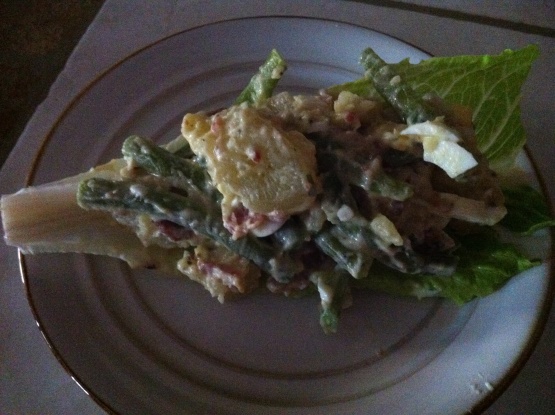 Simple and tasty side dish... from Betty Crocker

I don't like potato salad but since this recipe uses Caesar dressing instead of mayo I decided to try it, it tastes amazing. I love bacon so I used bacon flavoured Caesar dressing and added some extra bacon to the salad.
In 2-quart saucepan, place potatoes; add enough water to cover potatoes.
Heat to boiling, reduce heat to medium. Cook 5 minutes.
Add green beans.
Cook 4-6 minutes or until potatoes and beans are tender; drain.
Cool 15 minutes.
Peel and chop one of the eggs.
In medium bowl, mix dressing, basil, salt and pepper.
Add potatoes, beans, chopped egg and bacon; stir gently to mix.
Cover and refrigerate 1 hour.
Line serving plate with lettuce.
Spoon salad onto lettuce.
Peel and coarsely chop remaining egg; sprinkle over salad.