Boomette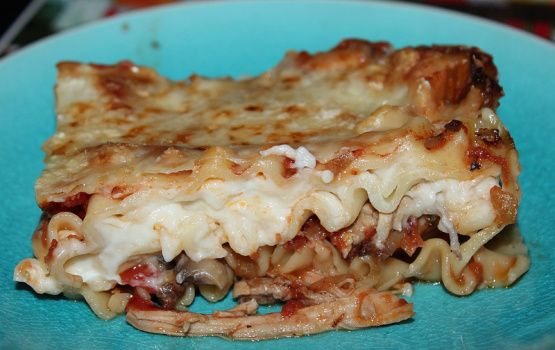 Another recipe from Ricardo. I made this lasagna yesterday. I adapted it to our taste. It's so yummy.

I think Boomie hit this one out of the ball park. I used the mozzarella choice and the white sauce was a lovely update from usual red tomato sauce. DH and I each had seconds because it's just so yummy. All that was needed for a side was a simple salad. This recipe is a keeper! :D
Lasagna: In a large non-stick skillet, brown the onion in the butter. Add the chicken and garlic and cook over high heat until the chicken is golden brown. Season with salt and pepper. Set aside in a bowl.
In the same skillet, brown the mushrooms and pancetta. Add butter, if needed. Season with salt and pepper. Deglaze with the wine. Add the chicken mixture and tomatoes. Bring to a boil.
Cover and simmer for about 20 minutes or until the chicken is cooked. Break the chicken apart with a fork, put it back in the sauce and add the parsley. Adjust the seasoning.
Parmesan Bechamel Sauce: Meanwhile, in a saucepan, melt the butter. Add the flour and stir well. Add the milk and bring to a boil, stirring with a whisk. Simmer for 1 minute. Stir in the Parmesan and nutmeg. Season with salt and pepper. Set aside.
Assembly: With the rack in the middle position, preheat the oven to 180 °C (350 °F).
At the bottom of a 33 x 23-cm (13 x 9-inch) baking dish, spread 250 ml (1 cup) of the chicken sauce and cover with a layer of noodles. Spread half of the remaining chicken sauce and cover with a layer of noodles. Cover with the béchamel sauce and then the remaining noodles. Add the remaining chicken sauce and sprinkle with the mozzarella.
Bake for about 30 minutes. Finish cooking under the broiler for about 5 minutes. Let rest for 10 minutes before serving.
TIP: Once the lasagna is assembled, you can keep it in the refrigerator for a few days. The cooking time for a cold lasagna is about 45 minutes. If it is frozen, count at least 1 hour and 10 minutes at 165 °C (325 °F) and finish cooking under the broiler, if needed.