Parsley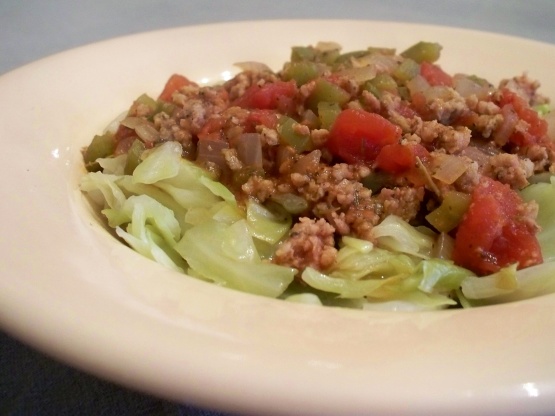 This is one we'll be using for an upcoming week of menu planning. I always make meat sauce in large batches and freeze it, so I'll be using what I have on hand, so if you don't like the sound of this one, feel free to substitute your favorite. Prep time/cooking time is for the recipe as written.

This reminded me so much of cabbage rolls without all of the work. I used lean turkey italian sausage and other than adding a clove of garlic & a pinch of sugar followed the recipe. The sauce thickened nicely, was mild, but flavorful, and paired well with the cabbage. Made for the July Comfort Cafe Event.
In a skillet, cook sausage, green pepper and onion until the sausage is browned; drain.
Stir in the tomato juice, tomatoes, oregano, salt and pepper; simmer for 1 hour.
Melt butter in a Dutch oven; saute cabbage over medium heat until tender, about 15 minutes.
Transfer to a serving platter and top with the meat sauce.