Cabbage That Tastes Like Dessert!
Bergy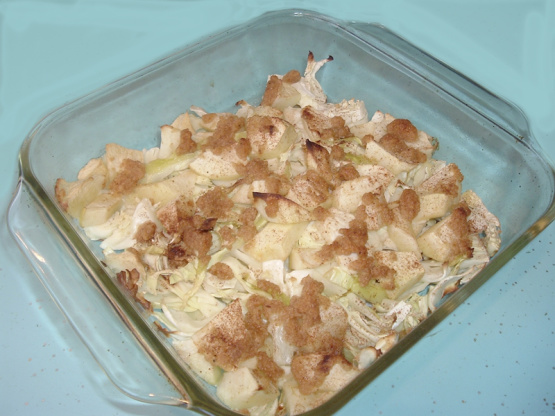 This really doesn't taste like dessert but it sure tastes good. You may cut back on the splenda/sugar a bit and on the crumb/butter topping to cut back on calories Refreshing taste. Cabbage & apples are still crunchy giving it a nice texture.

Top Review by Bliss
This was flavorful, but not sure what I'd serve it with. I was hungry when I took it out of the oven, and I ate it by itself. I'm taking a larger casserole to a family member tonite with some very "sweet/sour" type BBQ, so I'm guessing it will go with that fine. I think the next time I will use less of the topping, just because it slightly overpowered the dish.
Lightly grease a casserole dish big enough to hold the cabbage& apples.
Place the cabbage on the bottom of the casserole and place the apples on top in a layer.
Sprinkle with the sugar.
Mix the crumbs& butter together and pat this on top of the casserole.
Sprinkle with the cinnamon.
Bake covered in a 350F oven for 30 minutes and uncovered for apprx 15 minutes or until golden.