Cabbage Soup With Kielbasa
Parsley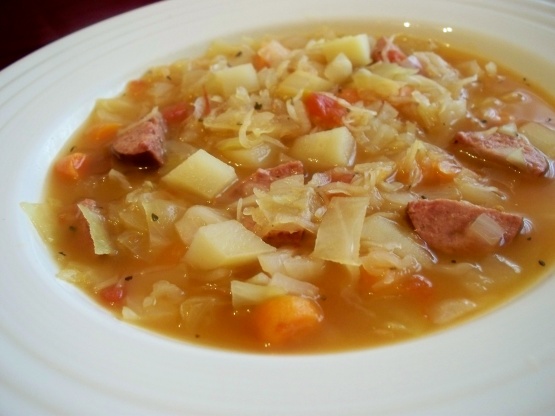 This is an easy, delicious and comforting soup. You can use a can of sauerkraut, drained and well rinsed, in place of the cabbage if you wish. Also, get the broth mixture going and then add the sliced and diced veggies right into the pot as you prepare them. Pumpernickel bread is great with this.

This was good and easy. Used the rest of the cabbage that I had for stuffed cabbage rolls. I used canned broth and used the whole can rather than just the 1 qt. and used the whole bottle of beer. It was great, husband said this recipe is a keeper.
Heat the broth, beer, tomatoes with their juice and bay leaf to a boil in a Dutch oven over high heat. Add the cabbage, potato, onion, carrot, kielbasa, thyme and caraway.
Heat to a boil; reduce heat to medium. Partially cover the pot. Cook till the potato and carrot are tender, about 15 minutes. Add salt, if needed, and pepper.