Parsley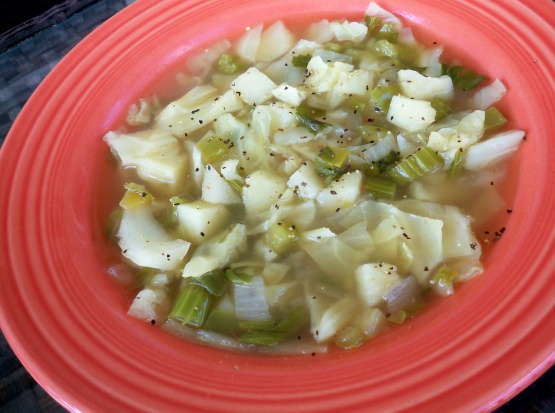 Cabbage can be boring but in this soup it is very tasty..the ground red pepper, etc..really enhances this soup !

Thank you for sharing this soup. I made this as a part of our dinner tonight. My mom has been down with a running nose for very long now. She said she really liked this soup. She did not want me to use veg. broth(as a substitute for chicken broth), so, I used water instead. I used in total 8 cups of water for this recipe. I love celery and cabbage immensely, and, this soup had both of 'em! I did not have ginger in powdered form, so, I used 2 tsps. of chopped ginger. I also used 2 tsps. of chopped garlic. Thank you, once again, for sharing this simple and good recipe.
Place the broth and water in soup pot, add cabbage, celery, potatoes, onion and green pepper.
Bring to a boil over high heat.
Reduce the heat, cover and simmer until the vegetables are tender.
Season to taste with the red pepper, ginger, black pepper, cinnamon and cloves.
**Ifyou are able to purchase an anise root, place in soup pot. Take out after vegetables are cooked.