Parsley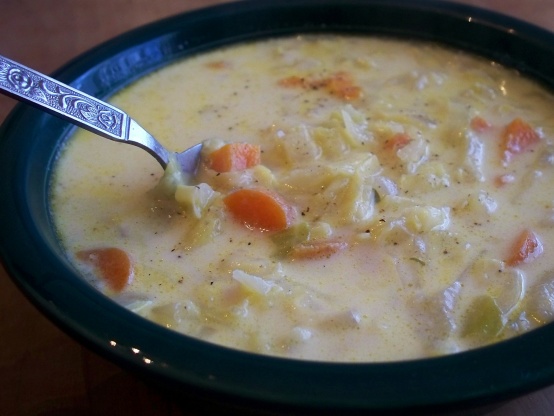 From SOS Cuisine. I made a double batch and froze part of it so didn't add the milk until I served it. I like it better without the milk and my dbf enjoys it with the milk!! :)

Made this for the family today. Followed the recipe except i pressure cooked chicken and added that to the soup, which worked out nicely since i got to use the broth. I could tell it was going to be good by how well it smelled, but it tasted even better than i imagined. Very good!
Prepare the vegetables: thinly slice the onions; finely chop the cabbage; shred the carrots.
Heat the oil and butter in a saucepan over medium heat. Add the vegetables, sugar, salt, and pepper. Stir well, then cover and cook 25 min over very low heat.
Pour in the broth, bring to a boil, then cover and simmer 15 minute Pour in the milk, then adjust the seasoning.
Ladle the soup into bowls and serve.