Rita1652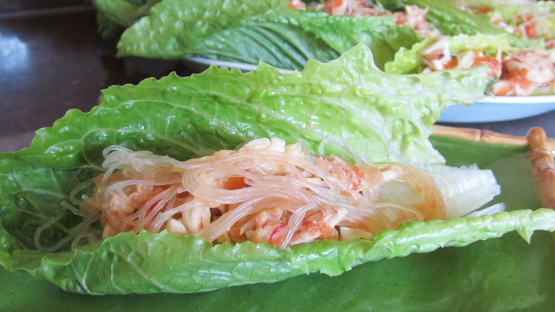 Inspired by the light, summery flavors of Vietnamese Salad Rolls, these Cabbage Salad Cups bring crunch and a flavorful sauce to delight your tastebuds. Feel free to chop the veggies in a food processor if you have one, and adjust the chili pepper flakes to your heat preference in the sauce. Enjoy!

Excellent! With a little tweaking this would be 5 stars. Like using a different vessel and some ginger and cilantro/mint to the filling would take this over the top! I did use romaine lettuce for the wrap in place of the cabbage. I can see if the cabbage choice was a tender napa but the contest called for straight up green cabbage. Just didn't want to wrestle the head of cabbage to remove leaves. I omitted the 1 teaspoon sesame oil and didn't miss it. Used cellophane noodles in place of the rice It`s what I had and what we enjoy. I did cut the sugar in half. Used the full amount of pepper flakes. Used a hand grater for the carrots and radishes. This is so quick to put together. Thank you for posting this refreshing, light, tasty low carb meal.
Salad

1

medium green cabbage
1⁄2 carrot, grated

2

red radishes, chopped

2

green onions, chopped

2

ounces rice noodles, thin

1

tablespoon sesame oil

Sauce

4

tablespoons ponzu sauce, lime citrus dressing and sauce

2

tablespoons ketchup, tomato

1

teaspoon sesame oil

2

teaspoons sugar
1⁄2 teaspoon red chili pepper flakes (or to taste)
Bring a large pot of water to a boil. Add chicken and boil 30 minutes, or until cooked through. Allow chicken to cool to room temperature when done.
Meanwhile, separate 8 large cabbage leaves from cabbage –gently cut into the large core at the bottom to ease them out leaf by leaf. Gently remove the thickest part of the cabbage rib/stem by cutting a V in the base of each leaf and removing it.
Prepare rice noodles according to package directions and allow to cool to room temperature. Toss with the 1 T sesame oil.
From remaining cabbage, shred to 1 cups worth. Combine shredded cabbage, carrot, radishes, and green onions in a medium bowl and mix. Reserve any excess cabbage for another use.
When chicken is cooled, shred meat, discarding skin and bone.
Add shredded chicken and rice noodles to veggie mixture and mix well.
Prepare sauce by whisking together all of the sauce ingredients. Adjust chili pepper flakes to taste.
Place the 8 large cabbage leaves onto a serving platter. Spoon chicken veggie mixture equally into each of the 8 cups.
Drizzle each with sauce and serve.