lazyme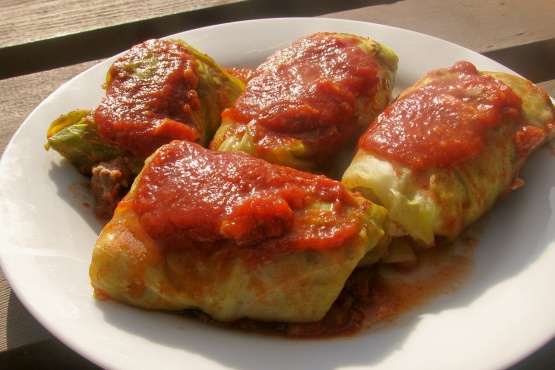 The hardest part is seperating the cabbage leaves from the head but otherwise a tasty cabbage recipe for 2

Top Review by lazyme
Loved these! I especially loved that the recipe was geared for 2 servings since I now dine alone. Easy and good. The hardest part of the recipe was getting the cabbage leaves off of the head in one piece, lol. I made as directed, but used V8 rather than tomato juice, as that is what I had on hand. Thanks budgiesntiels for sharing. Made for All You Can Cook Buffet Tag.
In a large saucepan, cook the cabbage leaves in boiling water for 5 minutes; drain and set aside.
Meanwhile, in a skillet, cook the beef, sausage and onion over medium heat until the meat is no longer pink.
Stir in the rice, Worcestershire sauce, mustard and egg. Mix well.
Cut out the thick vein from the bottom of each reserved leaf, makeing a v-shaped cut.
Place 1/3 cup beef mixture onto each cabbage leaf; overlap cut ends of each leaf and then fold in the sides.
Beginning from the cut end, roll up to completely enclose the filling.
Place seam side down in a greased baking dish.
Pour the tomato juice over the rolls and sprinkle with brown sugar, if desired.
Cover and bake at 350 degrees for 50 minutes. Uncover and bake for 10 minutes longer.