teresas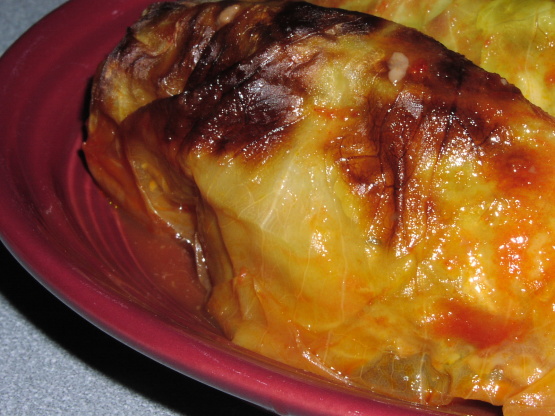 This is our favorite cabbage roll recipe. I often double or triple it to take it to pot lucks. They always go down a treat. People love them.

Great tip for the cabbage. Put your cabbage in 2 plastic bags and tie them up tight. Put your cabbage in the freezer. The night before you make your cabbage rolls take out your cabbage and let it thaw out. Cut out the core and the leaves will just peel off. There is no need to boil the cabbage. My Mother was a Chef and this is what she taught me. It works every time and it is so easy to do. This takes a lot of work out of making these scrumptious cabbage rolls.
Mix together meat, rice, egg, onion, carrot, salt, pepper and bacon.
Spoon mixture into the center of each of the 12 cabbage leaves.
Roll up, tucking in sides to completely enfold meat.
Place folded side down in a greased baking dish.
Mix together brown sugar, lemon juice and tomato sauce.
Pour over rolls, cover tightly and bake at 375°F for 1 hour.
Uncover and bake 20 minutes longer.