Prep 15 mins
Cook 45 mins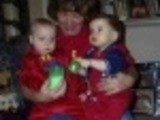 This tasty cabbage roll recipe uses tomato juice instead of tomato sauce. It has a slight tang to it from lemon juice and mint leaves. I got this recipe from my mother when she was in WW years ago. It's very tasty and well worth trying.
Directions
Remove the hard core from the cabbage and wilt the leaves.
Line a casserole dish with two cabbage leaves.
Mix all the ingredients except the garlic, using only 1/2 cup of the tomato juice.
Roll the mixture in leaves- using approximately 1 heaping TBLS per leaf.
Place the rolls, seam side down, on the leaves in the dish.
Add the clove of garlic, remaining tomato juice and 1/2 cup of water to the dish.
Bake at 325*F, covered for 45-60 minutes.
Most Helpful
I loved this recipe, the only change I made was to use both ground beef and ground pork sausage and did not have any allspice so I used nutmeg.
Very nice and easy too, the mint is a nice touch of freshness with the lemon, used fresh mint from the garden! I had a bottle of "hot & spicy" pizza sauce to use up, worked very nicely, I had no tomato juice. Super flavour with walla walla onion, the alspice & garlic. Made two casseroles for the freezer to use up a huge cabbage, will be nice for a lazy day sometime. We each had one for an appetizer for a taste, loved them, thanks for posting, I will make them again.

Very tasty and easy to make cabbage rolls, I made them using ground turkey instead of beef, also used V 8 vegetable juce instead of tomato juice as this is what I had on hand. The lemon and spices add a very nice flavor.Thank you Trisha, I will be making these again & soon DH loved them.