Derf2440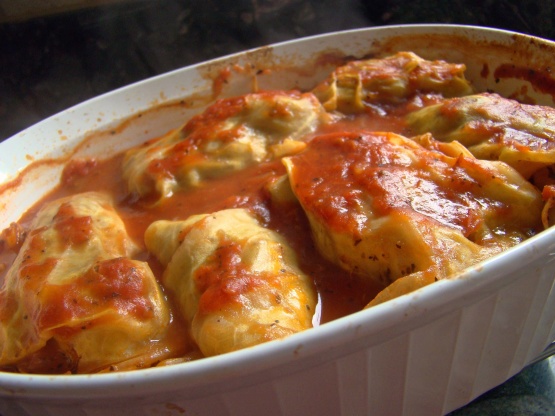 This tasty cabbage roll recipe uses tomato juice instead of tomato sauce. It has a slight tang to it from lemon juice and mint leaves. I got this recipe from my mother when she was in WW years ago. It's very tasty and well worth trying.

I loved this recipe, the only change I made was to use both ground beef and ground pork sausage and did not have any allspice so I used nutmeg.
Remove the hard core from the cabbage and wilt the leaves.
Line a casserole dish with two cabbage leaves.
Mix all the ingredients except the garlic, using only 1/2 cup of the tomato juice.
Roll the mixture in leaves- using approximately 1 heaping TBLS per leaf.
Place the rolls, seam side down, on the leaves in the dish.
Add the clove of garlic, remaining tomato juice and 1/2 cup of water to the dish.
Bake at 325*F, covered for 45-60 minutes.