Parsley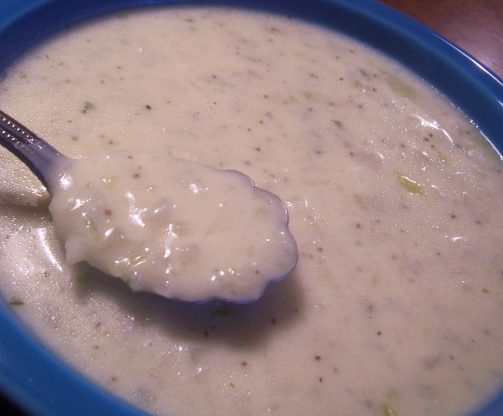 Warms the belly on a cold day. The ham is optional. I like it without the ham. For Vegetarian omit the ham and use the Vegetable Broth.

I've been using recipe from this site for years. This is actually the recipe that made me register so I could leave a comment. I've been getting a lot of cabbage and potatoes in my organic veggie boxes and was looking for a recipe that used both. Was also getting tired of coleslaw.
I used duck fat instead of butter, left the peel on the potatoes, put a chicken wing in (you can replace chicken broth with wings - a whole wing making 2 cups), then 2 cups veggie broth. I also put about half a cup of parsley because I love it so much. A French farmer at the local market makes this wonderful cured and smoked bacon-like product, I fried some of it in a pan while it cooked, then cubed it and added on top. I did not put in the cream, and I thought it wasn't needed. The end result was exquisite! The taste is amazing, and it really fills you up, but best of all, is how wonderful I felt after eating it. Since I have many food sensitivities, to me, feeling like a million bucks after eating anything is the best measure of a recipe (or a meal). It's an instant favourite.
In a large soup pot, melt the butter. Add chopped onion, shredded cabbage and garlic; sautee for about 5-7 minutes or until onion is soft and transparent.
Add broth to soup pot.
Add finely diced potatoes, parsley, celery seeds and pepper.
Bring to a boil; reduce heat and simmer for about 15 minutes (potatoes should be very soft by now).
Using a potato masher, coarsley mash the potatoes to thicken the soup. Make as smooth or chunky as desired.
Stir in the half and half and shredded cheese. Heat over low heat, stirring often until cheese is melted.
**If using the ham, add it here and heat through.
Taste and season with salt and/or more pepper as needed.