Cabbage Potato Chip Casserole
Parsley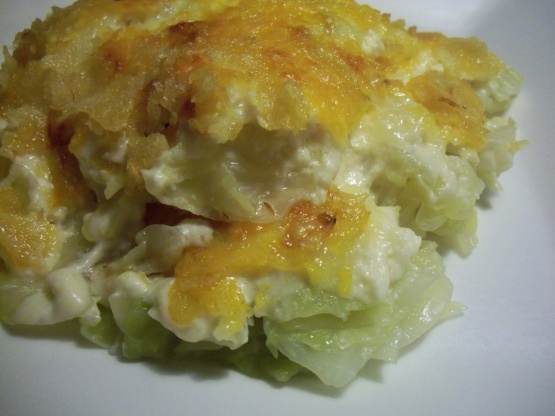 The potato chips are what make this casserole. It's worth the extra calories. I found this recipe in an old church cookbook that belonged to my husbands step-mother.

Oh, my! This is awesome! I followed your reccomendation and used the garlic powder over the cooked cabbage. For the cheese I used a blend of cheddar and swiss. The crunchy, salty potato chips were so good with the creamy cheesy cabbage. I did cut the butter down to 1/4 cup to cut some fat and it worked out fine. Thanx for posting!
Cut up cabbage and steam about 5 minutes in lightly boiling salted water. One or two garlic cloves can be added to the water if desired. Drain cabbage well.
Put layer of crushed potato chips over bottom of 9x13-inch pan.
Put cabbage on top of potato chips. If you haven't put garlic cloves in cooking water you might sprinkle cabbage with garlic salt or powder.
Blend milk, mayonnaise, and soup with wire whisk. Pour over the cabbage. Sprinkle grated cheese over top. Then cover with more crushed potato chips. Pour melted margarine over all.
Bake at 350°F for 30 minutes.