Cabbage, Potato and Smoked Sausage Skillet
Candy F.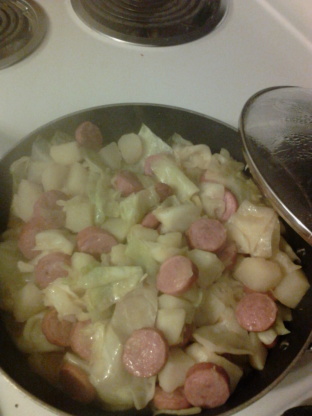 It calls for basic simple ingredients, but it tastes wonderful! Somehow all these things together taste much better than by themselves...

My German grandmother used to make something very like this. A few suggested variations:
-Replace one of the potatoes with an apple, pealed and coarsely chopped. A tart apple like a Granny Smith is best, but not required.
-Replace another potato with a pealed and chopped turnip. (This one is optional, but adds something nice to the mix.)
-Replace the broth with beer. It doesn't have to be good beer, although I think a shot of IPA really adds something.
-Add a healthy sprinkling of dill early in the cooking process. Fresh is wonderfull, but dried will do in a pinch.
Heat pan and add onion, smoked sausage, and potatoes. Season with the seasoned salt lightly (because the smoked sausage is salty enough), and add the paprika. Cook and stir over medium heat until potatoes are cooked about halfway through.
Next add the chopped cabbage and 1 cup of chicken broth. Cook, stirring occasionally until cabbage is crisp-tender and most of the liquid evaporates.