Cabbage Noodles With Crispy Bacon
Kathy228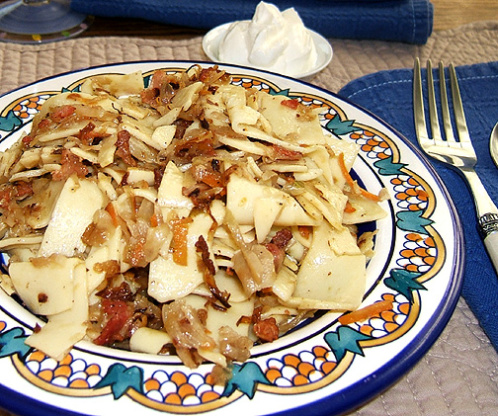 This recipe isn't low fat-that's why it's so good. The flavors really develop if made a couple of hours before serving. To complete the meal just add a salad and toasted unbuttered rye bread slices. For a really hearty dinner, serve with baked smoked kielbasa.

This is really good. I did it a little different cause I wanted to use the bacon grease to fry the cabbage so it would get more of that yummy bacony flavor. I fried the bacon up first and then added the cabbage to the fried bacon and continued from there. My bacon wasn't crispy because of the way I did it but I like it that way. I skipped the salt but added some nice fresh, minced garlic. I think this dish is great as a main course or a sidedish. It tastes even better the next day. I'm going to try your suggestion of using sour cream as a condiment with this. I'd never thought of doing that before. Thanks for sharing your wonderful recipe.
Melt butter in deep pan.
Add the bag of shredded cabbage.
Cook down until cabbage is nicely browned, at least an hour.
Stir occasionally at first, then frequently as the cabbage starts to brown.
Mix-in salt (to taste) and pepper.
Push the cabbage over to one side of the pan.
Add the bacon to the cleared area and fry until very crispy, or fry in a separate pan.
When bacon is done, combine all contents of pan together.
Gently mix-in the cooked egg noodles and dried spice, and warm on low heat.
Taste to adjust seasonings.
If desired, garnish with sour cream or yogurt and a sprinkle of thyme.