CandyTX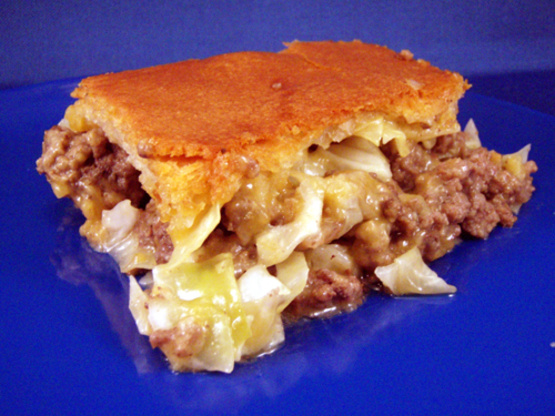 I searched Zaar before posting and I don't see another recipe like mine. This is an old recipe and by the looks of the stains on my handwritten notes, it's a good one! My mom always asks me to make this for her. So simple and a little different than your regular cabbage pie. Hope you like it!

I cut the beef and cabbage qualities in half but still used most of the can of soup. Layered in a pie plate cabbage -> beef mixture -> sharp cheddar -> cabbage -> beef mixture -> sharp cheddar. Topped with pie crust, poking some decorative vent holes. You could reduce bake time by parboiling the cabbage just a few minutes, but that might risk turning it into mush.
Preheat over 350°F.
Cook and drain ground beef and onion.
Add soup and simmer for about 3 minutes.
Spray 9x13 inch casserole dish with nonstick cooking spray.
Add meat mixture, layer with cabbage and cheese.
Unroll the crescent rolls then pinch all perforations to seal. (or use the crust listed above by mixing all ingredients to form dough. Roll out.
Top with pie crust and bake 60 minutes. Let stand 10 minutes before serving.