Bergy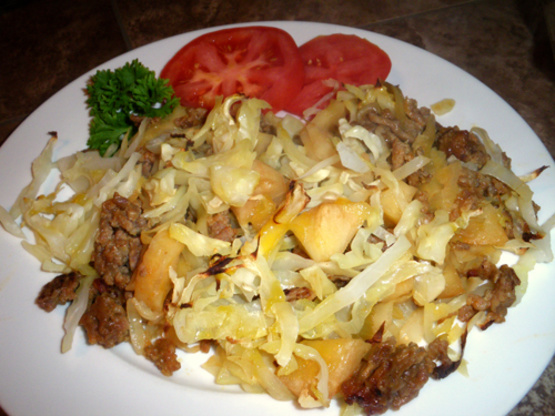 A simple and tasty casserole with items usually found in the pantry.

Top Review by Bergy
This was so easy to make and so tasty. I used Hot Italiasn sausage meat and I drizzled about 3 tbsp of honey mustard over it before serving. The casserole size is perfect for the amount of the recipe and the oven temp and time is just right too. The cabbage still had a slight crunch
Preheat oven to 350 degrees F.
In skillet, saute onion and celery in butter 3 minutes.
Add beef and salt and cook, stirring occasionally, another 5 minutes. Drain of extra fat.
Spread half the cabbage in 2-quart baking dish and cover with half the apples and all the meat mixture.
Add remaining cabbage and apple slices.
Cover and bake 1 hour.
Nice with mashed potatoes or noodles. Sprinkling Parmesan cheese on top, or grated cheddar, is also good, as is adding a clove of garlic in with the onion.