Derf2440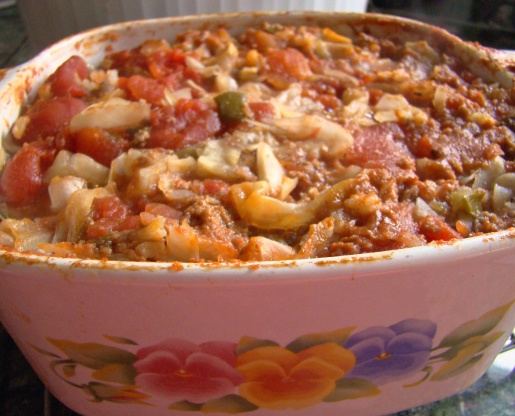 Feel free to make innovative variations by adding green beans, whole tomatoes or mushrooms. From "Cooking a la Heart"- Delicious heart healthy recipes from the Mankato Heart Health Program.

Made two of these to use up a huge cabbage and to have in the freezer for a lazy cook day. Nice flavour with a walla walla onion, the basil and oregano, I added some garlic too. I used Italian stewed tomatos, worked very nicely. It seemed liquid enough so I didn't add the water at the begining but did add about 1/4 cup about half way through cooking, worked out perfectly. It will be nice to have these in the freezer to pop into the oven for a quick and tasty dinner, thanks for posting. Did sneak a taste, lovely !! I will make again.
In a skillet, brown beef and onion- Drain off any fat.
Place half the cabbage in a non-stick sprayed 3- or 4- quart casserole.
Top with beef and onion mixture and then the rest of the cabbage.
Mix together tomato sauce, water, basil, oregano and pepper.
Pour over cabbage.
Cover and bake at 350 degrees for 75 minutes- Check durnig last half hour of baking and add more water if needed.