BarbryT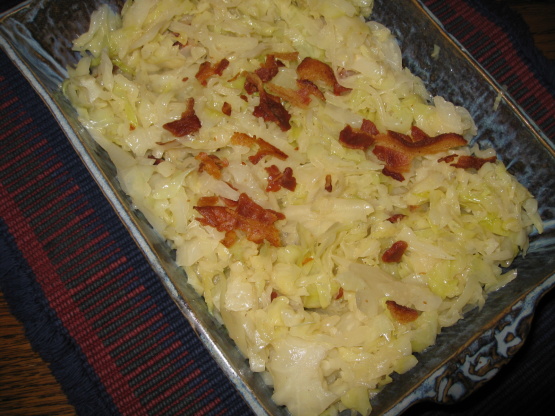 This is a quick easy side dish for any meal, goes well with mashed/German potatoes and a main meat dish eg: steak, rissoles, chicken. My family love this.
1⁄2 head cabbage (1/2 is plenty finely shredded)
1⁄2 cup water

1

chicken stock cube

1

teaspoon olive oil, for frying bacon (optional)

2

slices bacon

1

medium onion, slices finely

1

tablespoon butter
parsley, chopped (to garnish)
In small frypan cook the bacon with or without oil till crisp.
Set aside to drain.
Use a deep frypan on heat and add the shredded cabbage and onion.
Add the water and keep on a medium heat.
Crumble the stock cube over and mix well.
Turn the cabbage over as it steams and cooks.
When the water has almost evaporated (you may need to add more, if the cabbage isn't cooked through) add the butter and pepper and reduce the heat to low.
Finely chop the bacon and stir through.
Garnish with parsley and black pepper.