Cabbage Apple Cinnamon Casserole (Vegetarian Too!)
Debbwl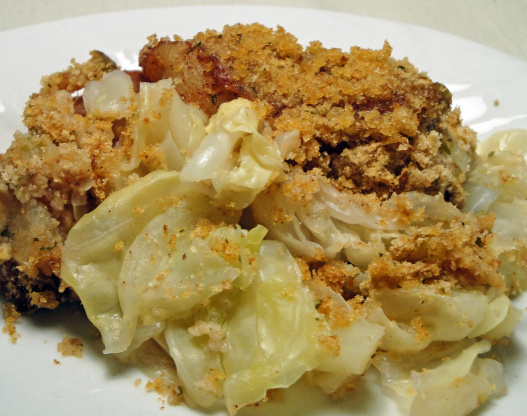 Thought cabbage was a bit boring, TRUE! Even if people don't like cabbage, they'll like this too! LOVE combination, healthy too! HOPE you'll try ...let me know what you think, TRUE!

This is a wonderful comfort food dish, I used 3 apples and 2 teaspoons cinnamon, make certain to cool and squeeze out the excess moisture in the cabbage, we loved this, thanks for sharing hon!...Kitten:)
Chop cabbage in pieces.
Add to boiling water and cook for about 4 minutes; DRAIN.
Spray casserole dish with Canola Oil spray or equivilent.
Mix peeled apple slices and cinnamon together.
Layer cabbage, apples, sugar and breadcrumbs in that order; continue until finish layers.
Make sure last layer breadcrumbs are on top.
Melt butter and pour over top.
Cover with aluminum foil and bake at 180 degrees (350) for about 50 minutes.