Cabbage and Sauerkraut for the Crock Pot
Parsley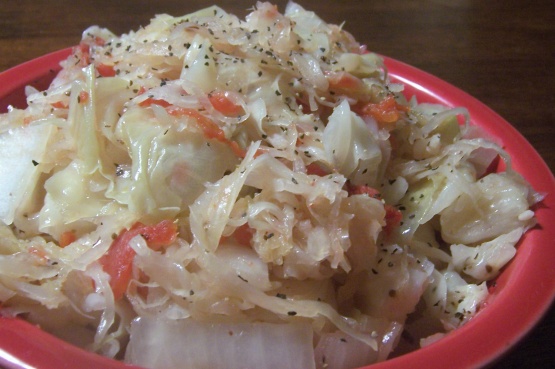 Meatless slow cooker side dish. If you're a meat person, throw in some cooked ham, bacon or sausage.

Top Review by SPrins
YUM! I loved this as is, but my hubby gave it a 6/10~~although he said it would be a 7/10 if I added some veggie sausage to it. Next time I will! I cooked this out in the garage to keep the heat out of the house~~we hit 101 degrees today!! Ugh!! Thanks so much for sharing! :O)
Place chopped cabbage into crock pot. Place sauerkraut and onions over top.
In a mixing bowl, combine all remaining ingredients and mix well. Pour into crock pot.
Cover and cook on low for 4-6 hours, or until cabbage is as tender as you want.
Stir well before serving.