Parsley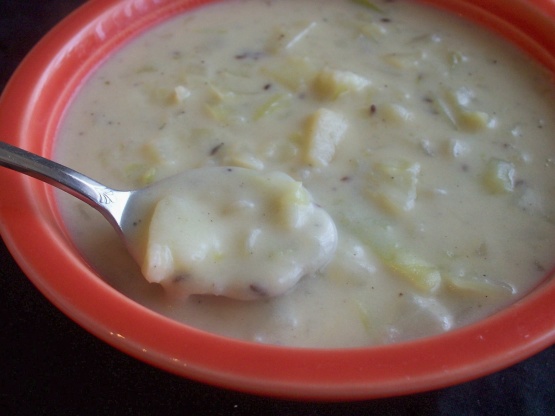 I got this recipe from a friend who found it in the Canadian Living magazine. It is my "special soup" that I serve on special occasions and to guests . Everyone loves it.

Great recipe, even with the changes I made. I wanted a lighter soup, so I used one can of fat free evaporated milk. It was still delicious. I also used brown deli mustard since I discovered I was out of dijon. Otherwise, I followed the recipe. Easy to make, and nice for a change from the usual potato soups I make. When I reheated the leftovers, I added some smoked sausage and that was a good addition. The smoked sausage flavor goes well with the mustard and caraway. Definately a soup I would make again.
In a large saucepan, heat broth over medium heat.
Add cabbage and potatoes.
Cover and simmer about 10 minutes until potatoes are tender.
In a large skillet, over medium heat melt butter.
Add leeks and cook until tender.
Stir in flour (into leek mixture) and cook 2-3 minutes.
Add 1 cup half and half to the broth mixture.
Add leek mixture to broth mixture.
Add remaining ingredients.
Stir in remaining 2 cups half and half.
Cook over low heat 10-15 minutes.