Parsley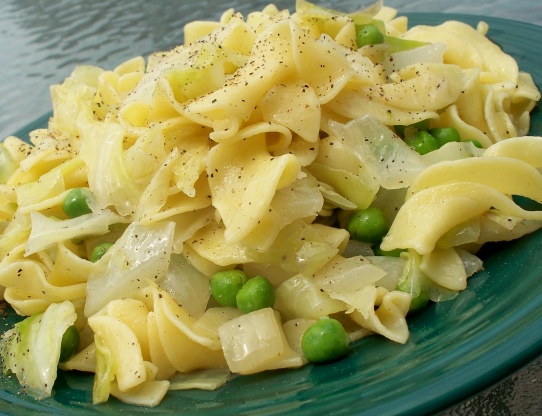 A great side dish or a meal on its own. This is a Polish/Hungarian dish. Can use bacon but I cut back on that to make it meatless. Also can garnish with poppy seeds. Adding peas for color and nutrition. Bacon is a yummy addition for those that eat meat. Just brown drain most of the fat then add butter and oil and brown onions. Be sure to give the onions a nice brown color using a med high heat.

This was delicious Rita...I used freshly picked cabbage from my garden and made as written except for the peas....deer ate my peas. So, it was onion, cabbage and noodles with the butter, olive oil, salt and pepper. Lots of pepper as you stressed in the recipe. We had this with some grilled bratwurst for a very nice summer supper on the deck. Thanks so much for posting!
Melt butter and olive oil in pan over med high heat.
Saute onions till golden brown, 5-10 minutes.
Add cabbage cook till soft, 15 minutes.
Mix in noodles and frozen peas; season with lots and lots of pepper and salt to taste. (Key here is lots of pepper.).
Cook 2 minutes and serve.