Rita1652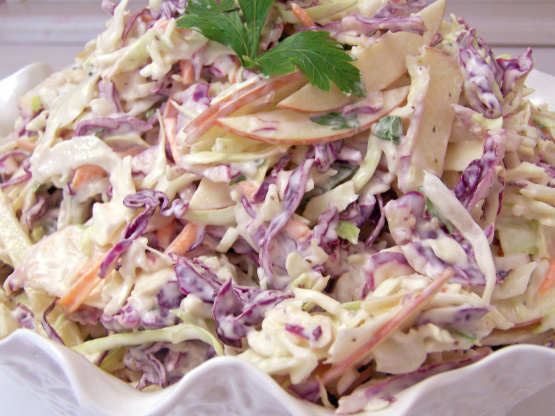 From Real Simple magazine.

This was a refreshing change from my usual cole slaws, and I would definitely make it again. I really liked the apple with the cabbage! I followed it pretty much as written, although I used less dressing and since I had a tart apple, I did add a small amount of sugar to the dressing. Also, I didn't have parsley, so I added a bit of cilantro, and loved the combination! But, I already know that parsley pairs really nicely with apples, so I would like to try parsley the next time. YUM!
In a large bowl, combine the green and red cabbages; set aside.
In a medium bowl, whisk together the mayo, sourcream, vinegar, celery seed, salt, and pepper. Add the apple(the apple should look almost like matchsticks).
Pour over the cabbage and toss gently until coated. Cover and chill 1 hour or longer. Sprinkle with parsley to serve.