Cabana Boy Sesame Chicken
vrvrvr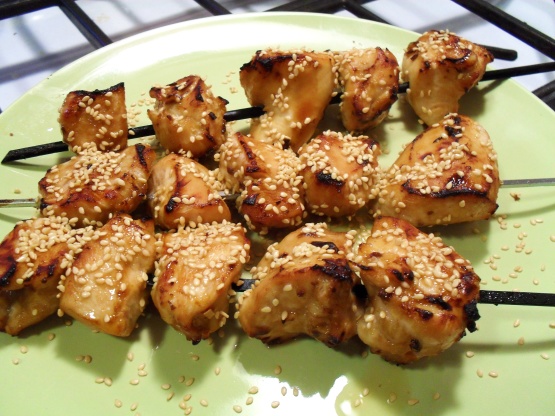 This counts as one "protein" on the L.A. Weight Loss Diet.

Top Review by vrvrvr
This was a certified winner around the dinner table tonight. My 8 year old couldn't stop eating this chicken! We all loved it. I increased the ingredients to serve 4. Next time I will save out a bit of the teriyaki mixture to paint on the chicken just before serving. It will add moisture and the sesame seeds will adhere better. We will gladly be eating this dish many more times! Served with lemon-parslied potatoes.
Combine teriyaki sauce, water, garlic and ginger.
Stir in chicken.
Let marinate for 20 minutes in the refrigerator.
Thread chicken accordion style, on 10-12 inch skewers.
Place on broiler pan.
Broil 4-5 inches from heat for 3 minutes.
Turn and broil 3-4 minutes more or until chicken is no longer pink.
Sprinkle with toasted sesame seeds.