loof751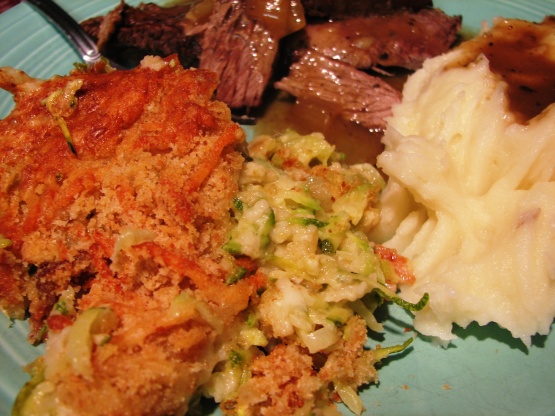 No cream soups, no tomatoes, please! Adapted from MIL's adaptation of an "old school" WW recipe. Kid-pleaser!

Made for Spring PAC 2013 and what a great recipe. I followed the instructions and I can imagine this summer with fresh garden zucchini it will be delicious. DH loved this dish and we served it with your recipe#206646#206646 which was a hit. Thank you for posting.
4

cups zucchini, grated or shredded

1

cup cracker crumb, saltines

2

slices bacon, precooked and chopped or crumbled

1

egg, beaten
1⁄4 cup butter, unsalted, melted
1⁄2 cup mushroom, chopped, (optional)

1

cup chopped onion

4

ounces swiss cheese, shredded, 1 cup
1⁄4 cup plain breadcrumbs
Preheat oven to 350 degrees F.
Melt butter in a pan and saute mushrooms, if using, and onion till soft; add salt and pepper to taste, if desired. Cool slightly; spray a 2-qt. casserole dish with cooking spray.
Combine zucchini, cracker crumbs, bacon and egg.
Add saute mixture to zucchini mixture and mix well.
Pour whole mixture into casserole dish. Top with cheese and bread crumbs.
Bake uncovered for 40 minutes.
May be frozen before cooking. Thaw 24 hours in fridge before baking. I put cheese and crumbs on the casserole to freeze; MIL freezes them separately to add just before baking.
I use frozen chopped onions, and do not saute them; I add the butter, melted and slightly cooled, to the mixture. I also do not add mushrooms, to prevent a civil uprising.