C. O. R. N. Chicken Noodle Soup
Pamela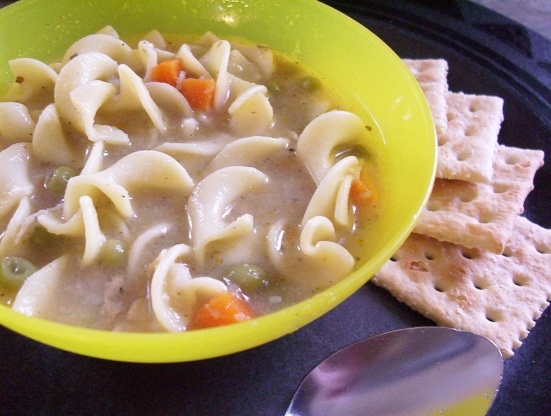 All of you "Zaarites" know what C.O.R.N. means, but for those of you that might not, it means C lean O ut R efrigerator N ight. I had a lot of leftover veggies and some frozen cooked chicken and I came up with this. If you like a soup with lots of noodles and a lot of chicken, this might be what you are hunting for. The longer you let in simmer after adding the pasta, the better it tastes. If you try it I hope you enjoy it. Posted March 11th, 2006.

Made this only I did cut the recipe in half and steamed some fresh corn and carrots and then added some cabbage and peas to the soup the last 15-20 minutes of cooking. Oh yes, I did use fresh garlic and added some fresh parsley. A very tasty soup for a beautiful day and the ocean. Thank you for posting. Made for Zaar Chef Alphabet Soup ~~ Jan-June 2013 tag game.
In a Dutch oven over medium, heat sauté' onion in margarine.
Add chicken broth and seasonings; simmer 5 minutes.
Add veggies and chicken. Bring to a boil.
Reduce heat to medium low; simmer 15 minutes.
Add pasta and cook until tender, 15 minutes. At this point add more seasonings if desired.